ABOUT US
THE BIRMINGHAM SCHOOL SPORTS FEDERATION SENIOR FOOTBALL SECTION
The Birmingham School Sports Federation was set up in the late sixties to promote all sports within Birmingham, with the senior football being one of the many sections. However over the years sport has fallen into decline due to lack of funding and staffing. However the football section has continued since that time to organise football competitions for individual schools within Birmingham and Solihull.
All schools affiliated to Birmingham S.F.A., Aston, Erdington & Saltley S.F.A., Kings Norton & South Birmingham, and Solihull S.F.A. are able to enter the five competitions that are run at U12, U13, U14, U15, and U16 age groups. The B.S.S.F. Senior Football Section is affiliated to the West Midlands and also the English Schools F.A. Due to each of the member associations running their own district teams the B.S.S.F. does not at present run sides although the structure is there should circumstances change.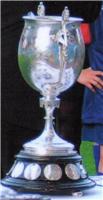 The Villa Cup

The oldest of the competitions organised is the U15 Aston Villa Charity Cup which was donated by the Villa in 1887. The trophy in fact was the original one competed for by the local midland football teams before the formation of the football league. Due to its historic value it is now safely kept at Villa Park with a new trophy being presented by Aston Villa in 2006. Normally each year the final is held at Villa Park
Not to be outdone Birmingham City presented the association with an U16 trophy to be competed for by students in their last year of compulsory education in 1968. However this trophy was renamed the City of Birmingham Cup in 2011 due to Birmingham City's unwillingness to give support to the competition and stage the finals at St Andrews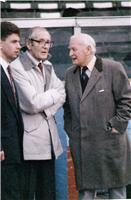 George Welford &
Trevor Gill
The U13 Federation Trophy was first competed for in 1960 and this later was renamed in honour of the late George Welford who was a staunch supporter of Birmingham Football. This competition was originally sponsored by Northfield Town but in recent years Hollyfields Sports and Social have hosted the final.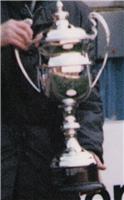 Trevor Gill Trophy

The Trevor Gill Trophy was introduced in 1976 and it was donated by the late Trevor Gill, who at one time was a Villa director, President of Aston Villa and a life Vice President. Since his death his daughter Penny Gill and his grandson Adam Green have continued their support of this competition. This too is staged at Villa Park.
The other All Birmingham Senior Cup is the West Midlands Travel Trophy introduced in 1976. The West Midlands Travel used to hold the final each year at their ground and provide all the medals for the players and officials.Unfortunately due to the lack of a 9 v 9 pitch the final is now kindly staged at Wast Hills, Birmingham City's Training ground.